As one of the front-runners in the use of state-of-the art technology, we can manage commissioning and support of our lines, despite of travel restrictions. For many years, we have supported our machines online, and now we have introduced smart glasses (head mounted tablets) to interact in real time technician to technician.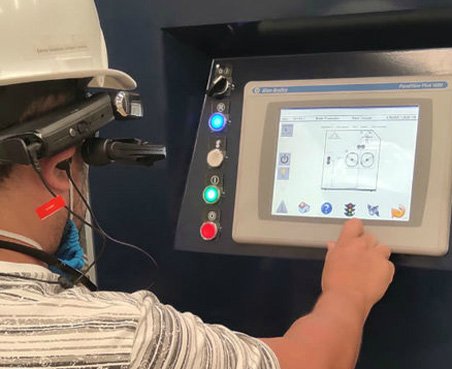 The coronavirus outbreak has dramatically changed the way we travel and limited our possibility to visit our customers. As a company that operates worldwide, we have been working relentlessly to find new ways to assist our customers despite the restrictions.
One of the solutions we found is the use of smart glasses, as we did, for example, in Mexico, where we assisted a customer in the commissioning of their first Roll-o-Matic line. Beforehand, the customer received a RealWear HMT-1 headset and detailed instructions about how to prepare for the start-up.
Then, with the help of the smart glasses, our service team in Denmark was able to guide the customer step by step in real time. When your technician wears the headset, our service team can follow his/her steps and give instructions, both verbal and visual. We can, for example, show drawings or type short messages on the screen. This way your staff can learn how to operate the machine, with the feeling that our service technician is standing just beside him/her.
Due to the overwhelming positive response from several customers, we have decided to offer this technology as an additional service. It will give us even better possibilities to assist you remotely, on top of the online support we have offered for many years. We will be able to quickly trace faults and solve problems, no matter how far away your company is located.